About the CELTA course
The CELTA (Certificate in Teaching English to Speakers of Other Languages) is the most widely recognised initial qualification for those wishing to follow a career in TEFL (Teaching English as a Foreign Language).  Cambridge English Language Assessment, a division at the University of Cambridge, holds responsibility for validation and certification of the courses as well as approves the tutors who run BKC-International House Moscow's CELTA courses.  An external assessor for each course is provided by Cambridge.
The BKC-IH Moscow Teacher Training Centre (RU006) has been running Cambridge CELTA and Delta Modules courses for over 20 years and boasts an experienced team of teacher trainers.  We also offer IHC YLT, IH FTBE and IH CAM courses focusing on teaching children and teens, teaching Business English and on advanced methodology as well as a wide range of in-house workshops and seminars for BKC-IH teachers.  We offer visa support and accommodation upon request.  Successful CELTA graduates are considered for teaching positions at BKC-IH Moscow.
The CELTA course aims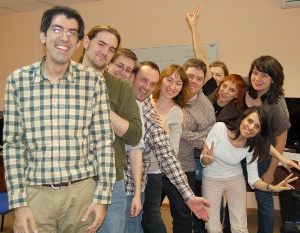 This is a highly practical course that provides training in the teaching of English as a foreign language to adults. CELTA aims to provide teachers with a firm foundation on which they can build with experience. CELTA deals with levels from Beginners/Elementary to Late Intermediate (Cambridge First Certificate).
The CELTA course presents a view of the principles underlying language teaching and deals extensively with the analysis of English from a learner's perspective.
Candidates, who successfully complete the Cambridge CELTA Сourse receive the Cambridge Certificate and a certificate-report from BKC IH-Moscow. The report describes the candidate's performance in some detail and serves as a useful reference for employment.
Useful websites for more information about CELTA and other Cambridge courses: Cambridge English Language Assessment and Cambridge English Teaching Support.
For more informal feedback on the course, please check our Our Trainees and CELTA Testimonials pages.
CELTA Course structure
At BKC-International House Moscow the full-time CELTA course runs for four weeks (120 hours, Monday - Friday, 12:30 - 20.45). It can also be taken part-time over 10 weeks (two work days, 13:00 - 22.00).
A typical day on a full-time course (sample)
| | |
| --- | --- |
| 12:00 – 13:00 | Feedback from previous day's teaching |
| 13:00 – 14:00 | Guided lesson preparation |
| 14:15 – 15:30 | Input session (methodology, language awareness) |
| 15:30 – 16:30 | Lunch |
| 16:30 – 17:45 | Input session |
| 17:45 – 18:30 | Guided lesson preparation |
| 18:30 – 21:00 | Teaching Practice |
On a part-time course,  feedback is usually given after the teaching practice.
Input session
Input sessions are often held in the form of a workshop or interactive lecture. Topics address the issues of language awareness, the learning/teaching context, planning, methodology, classroom management and areas of language analysis and presentation and professional development.
Teaching practice and Observation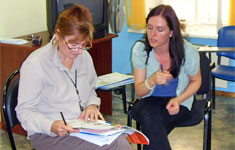 Teaching practice is a major component of the CELTA course and takes place every evening. The programme is closely related to work done during the seminar sessions. Small groups (the maximum is six) obtain practical experience through working with classes at different levels. After each teaching practice session the lessons are discussed with the tutor. CELTA Trainees must liase with other members of their group outside course hours in order to produce a series of cohesive lessons.
The observation of practising teachers is an intrinsic part of the course and takes place outside course hours.
Additional work outside CELTA course hours
Liasing with other course participants for timetabling and lesson planning.
Observation of a class at BKC-IH Moscow
Optional viewing of teacher training videos.
4 written assignments during the course (total of 3,000 words).
Occasional homework assignments related to input seminars.
We emphasise that this CELTA course is very intensive. It demands full commitment from participants over the duration of the course.
After your CELTA course
BKC-IH Moscow is highly interested in employing successful CELTA graduates.